Birthday Parties – Weddings – Bar Mitzvas & More…
If you want to make your or your child's birthday truly memorable, book a sail on Red Witch! Feel free to don your best eye patch for the event as we raise sails, catch wind, turn off the motor and catch the sunset behind Kenosha.
Weddings on Lake Michigan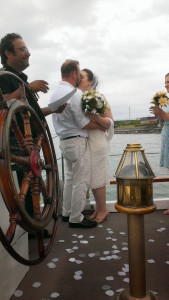 Red Witch is available for weddings, engagements and ceremonies! Her wooden decks and our beautiful skyline make for a memorable event. Pick the perfect summer evening for a romantic and truly unforgettable wedding on beautiful Lake Michigan with the seas or skyline in the background.
Please share your special moment aboard Red Witch on Lake Michigan!