Tall Ship Red Witch
Red Witch is Chicago's beautiful authentic wooden schooner offering a unique sailing charter experience with our Chicago skyline tours, day sails and Navy Pier summer fireworks cruises. We'll be sailing during Tall Ships Challenge 2013!
Groupon customers may need new vouchers! New redemption codes should have been emailed to Groupon purchasers. If your old redemption codes are not working, please call Groupon at 1-888-350-9061 or email support@groupon.com for new redemption codes.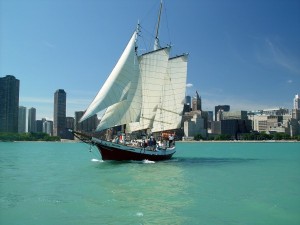 Red Witch was voted "Best Tour and Charter Boat" in 2009 and 2010. She is Chicago's ONLY wooden tall ship — a genuine, historically-accurate working John Alden schooner on the Great Lakes.
Contact us now to reserve your charter!
---
Chicago Tall Ships 2013, August 8-13
The Tall Ships are coming back to Chicago! Red Witch will be sailing from Navy Pier during Chicago Tall Ships 2013
Chicago Skyline Sails
Come view Chicago from Lake Michigan like sailors of old! See our schedule of daily public events or have your next private meeting or event on this traditional Great Lakes Schooner. We offer an unforgettable experience at affordable prices. Red Witch comfortably accommodates up to 49 passengers.
Sailing Charters and Adventures in Chicago
You'll feel more like a crew member than a passenger aboard Red Witch as we present an interactive experience wherein you can choose to raise sails, or simply relax and enjoy Chicago's world-class skyline. We offer amazing sailing excursions in Chicago! When the sails are raised and the motor is turned off, the only thing you'll hear is the wind. Have your event catered, or bring your own beverages, wine and snacks.
Navy Pier Fireworks
Come sail with us every Wednesday and Saturday to watch the Navy Pier fireworks! Pack a picnic dinner and enjoy the views with your sweetheart.