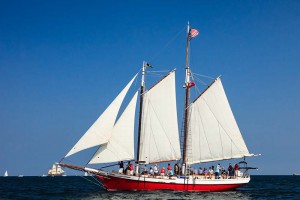 Red Witch is available to the public for events in Kenosha & Racine WI such as day sails, evening cruises, special events, private parties and corporate events. Passengers will enjoy the comfort of Red Witch as the two cabin tops are at chair height and provide comfortable seating. Wide decks and safety rails allow for easy movement. The weight of the wooden vessel, along with the steadying effect of the wind in the sails, ensures a comfortable relaxing motion, soothing to sailors and non-sailors alike.
Sailing aboard Red Witch is an interactive experience in which you help raise sails or simply relax and enjoy the wind, sea and skyline from her spacious deck.
Tall Ship Red Witch Voted "Best Tour Boat, 2009-10 "Illinois Meetings and Events"
Tall Ship Red Witch, LLC is pleased to offer you a sailing trip aboard one of the few remaining wooden schooners. The performance and feel of a classically-designed and constructed wooden schooner is unforgettable.
We offer upscale daily public events and private charters. We offer flexible schedules and accommodations.